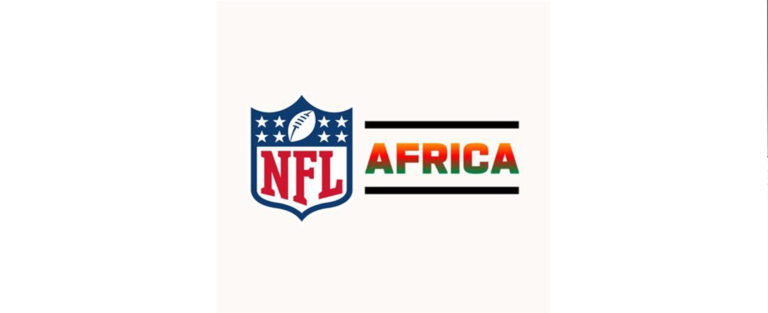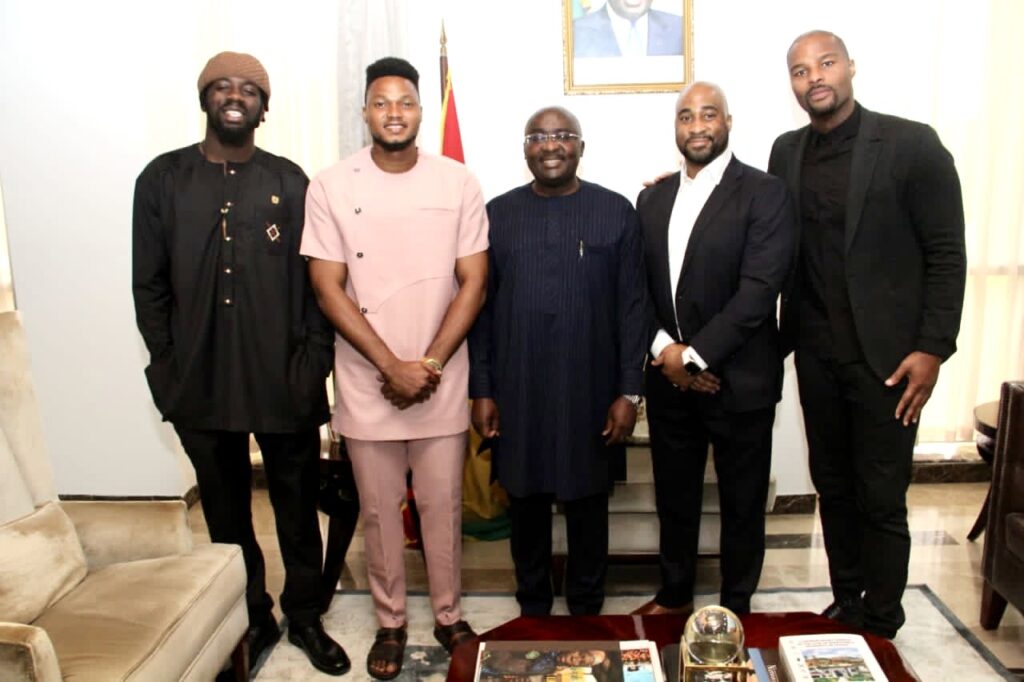 Osi Umenyiora at the far left end, Jeremiah Owusu-Koramoah at the far right followed by Mohammed Osman Nkosi at his immediate left and H.E Vice President of Ghana Mahamudu Bawumia in the picture.  
Osi Umenyiora: Blazing a Trail with NFL Africa
Osi Umenyiora, The former New York Giants defensive end has been spearheading the NFL's NFL Africa program. Over 100 current players in the league who are of African descent by either first or second generation, and Umenyiora wants that number to grow.
But what is NFL Africa?
Umenyiora explained, "The whole premise of NFL Africa came from the fact that we have a bottomless supply of talent in Africa and an unlimited demand for that talent in the United States of America, and somebody just had to connect the two to give people the opportunity to help themselves."
The NFL has made strides to expand its global footprint beyond the U.S. in Europe and Mexico. The league recently appointed Henry Hodgson to lead its U.K. business and Charlotte Offord to be its first Australia GM. And during Super Bowl week in February, the NFL had multiple announcements about its next steps. In the upcoming season, the Tampa Bay Buccaneers will play in Germany, and the Arizona Cardinals will play in Mexico City, while the Green Bay Packers, New Orleans Saints and Jacksonville Jaguars will play in London. 
All of the announcements come after the NFL gave 18 teams access to 26 International Home Marketing Areas (IHMA) in eight different cities. 
Umenyiora said the reason NFL Africa has moved a bit slower isn't because the NFL isn't supportive but more so due to the fact that the league didn't know how much talent was in the countries within the continent.
"There's really not a lot of money to be made right now in terms of marketing in Africa, so people aren't really checking for Africa right now," he said. "I think what they are failing to realize is the talent is the money. That's where the actual money is — it's in the talent."
"And if we're able to increase the level of athleticism in every sport, that's just going to bring more awareness," he continued, "and when eventually Africa does have the money you will already be on the ground floor and be able to expose the game and expand the game."
Ghana's Vice President Mahamudu Bawumia backed that notion while speaking to CGTN Africa earlier this month: "Establishing the NFL Africa Academy here in the mold of a football academy like Right to Dream, will go a long way to help in the unearthing and development of talents, as well as providing alternative career pathways to the youth."
An NFL Africa Academy may take time to develop. In the meantime, Umenyiora has alternative plans to bring players from Africa to the league. One of the roads that is slowly being paved is the league's International Player Program, an initiative designed to increase the number of non-American players in the NFL. Umenyiora saw a win within the program recently when the New York Giants signed offensive tackle Roy Mbaeteka, a Nigerian product who participated in the league's IPP. 
The former Giants' defensive lineman also has his eyes set on bringing African talent to HBCUs.
"There are other ways to bring top talent to HBCUs outside of the 5-star recruits," he said. "The top-notch high school may not want to go to HBCUs. But I know places where you can get 5-star talent, and they would do anything to get a scholarship to Jackson State, Florida A&M and other HBCUs. This NFL Africa thing can address a lot of different issues. We're going to flood these HBCUs with top notch talent and this is going to increase the level of play in college."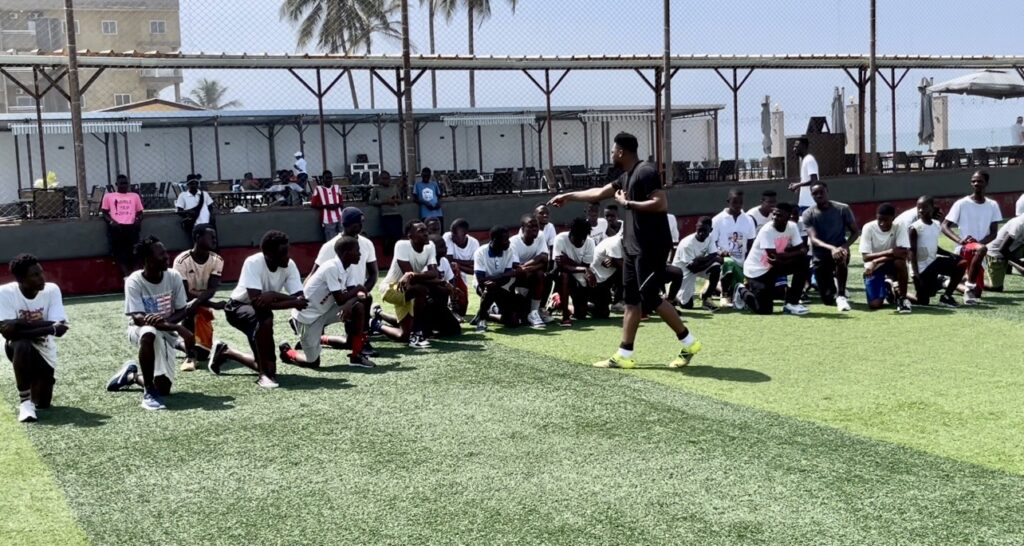 Mohammed Osman Nkosi, President Of Football Operations of Titans Of Africa says:

"I believe in the talents that surround me anytime I step on the pitch and try to teach football. African youth have a great passion and strong desire to to make it to the highest level.
Now it is left up to us to strategize in a way such that those talents and enthusiasm don't die off. We have to cultivate and nurture the amazing talents on the continent and this is why I'm always ready to commit my 110% effort and energy to make all dreams a reality. I see what NFL Africa is doing and I am highly motivated by Osi Umenyiora. He is doing it for the continent so I must contribute in my little ways to this wonderful journey, thus and by far I am super happy about the fact that Coach Chadwick Louisville is strongly supporting and upholding this vision with me. I want to see football being played in every corner of Africa just like soccer and I want to see the younger generation in Africa, catch a football when thrown to them rather than kick it"
What Osi Umenyiora has done for the players drafted into the NFL should serve as an example to the diaspora.
It's about time we rewrite the narrative and put in work for the future of the youth on the continent.
It's about time we feel the hustle and sweat of those kids toiling day in day out to see their dreams being lived.

ONE DAY THEY'LL UNDERSTAND WHY I NEVER GAVE UP ON PLAYING FOOTBALL.
Having being exposed to football after having a professional career in Rugby playing 2 seasons under Rugby Warriors Club in the D-2 All India Men Rugby Championship and won the Plate  and under Mumbai Magician Foundation in the All India and South Asia D-1 Rugby Championship.
Having led my my University American Football team as the team captain to win Silver Medals in 2 All India Inter University Championship and being selected as member to participate in the All Star University team.

I thought I  was making my way into professional football but suddenly I met an injury, an ACL tear. One of the toughest moment of my life as an athlete. But the only way I could hold my spirit up in motivation is to take my expertise back home after I recovered and invest it in others. I didn't have the confidence like before. I couldn't have given my 110% to the team anymore. My coaches missed me and motivated me enough to give it one more push but then I said to myself I will rather be more happier if I toil hard to be able to guide others to reach where I couldn't and even beyond.
The new inspiration is to motivate youth and work hard to be able to see their  dreams becoming a reality.
Now ,thanks to Titans Of Africa for providing me with a medium to help African youth in the best possible way and bring them the right opportunities.
The first time I will be happy is when I see myself helping someone to tell their success stories!!!
MY JOURNEY OF AMERICAN FOOTBALL IN GHANA
I came into full frame of American Football in Ghana in 2019. I had an intention to transmit my little knowledge of the game to younger ones. 
When I got here I decided to pursue this task with people that are involved in the same sports. I realized something but I chose to ride along and work hard regardless anyone's commitment.
The people here are more of talks and not action oriented.  I had to figure out a strategy to end being caught up in too much talking and rather get things done.
I took a path alone and started spreading the game in the country. From Accra to the Northern Region. Meeting with the right people that can support this dream.
In December 2021 I tried to set up an Exhibition game to enable the entire Ghanaian public see what American Football is but it failed due to lack of resources. During this moment Ryan Glover and Jeremiah Owusu were in constant communication with me and ever ready to support the initiative. 
With persistency, focus and hard work , Jeremiah Owusu-Koramoah decided to come into the country to support the dream and help bring the right opportunities to the kids here.
In 2022 the arrival and camp of Jeremiah was finalized and I identified regions to host the camp in March and April.
Jeremiah didn't come alone but he came with the attention of the NFL.
Thereafter, Ghana was selected to host the NFL Africa camp and first official event of the league in Africa.
In May 2022, Ryan Glover and Tameka Raymond also came back into the country to support with a camp.